NITE & KEYNOTE
Bald ist es so weit – das FORUM CREATIVE INDUSTRIES geht in die vierte Runde!
Nach Martin Lotti (Design Manager bei NIKE, 2014), Mikkel Holm Jensen (LEGO, 2015), Frederik Pferdt (Head of Innovation and Creativity bei GOOGLE, 2016), wird wird Steve Selzer, Design Manager bei Airbnb die diesjährige Keynote halten.
Das von der CREATIVE REGION Linz & Upper Austria organisierte FORUM CREATIVE INDUSTRIES hat sich mit den bisherigen drei Ausgaben mittlerweile zu einem Fixstern für die österreichische Kreativwirtschafts- und Innovationsszene entwickelt. Wir freuen uns auch heuer wieder auf ein topaktuelles, interaktives Programm bei einem einzigartigen BesucherInnenmix aus kreativen Kleinunternehmen, InnovationsleiterInnen, IndustrievertreterInnen und natürlich der allgemeinen Öffentlichkeit.
Dieses Jahr wird das FORUM CREATIVE INDUSTRIES (FCI) von 28. bis 30. Juni Kreativität und Innovation in unterschiedlichen Locations in Linz greifbar machen.
Am Abend des 30. Juni 2017 findet als Abschluss und Höhepunkt in der Tabakfabrik Linz die vierte FORUM NITE in Kooperation mit der Industriellenvereinigung Oberösterreich statt. Highlight ist abermals eine hochkarätige Key Speech, die die neuesten Entwicklungen in den Bereichen Innovation und Design aufzeigt. Der INNOVATION CIRCUS presented by SPLEND wird die Key Speech in ein attraktives, interaktives Rahmenprogramm einbetten.
Neben vielen informativen Inputs, Workshops und einem spannenden Rahmenprogramm haben wir für 30. Juni auch schon mal schönes Wetter vorbestellt – perfekt also, um die FORUM NITE und den Innovation Circus im Areal der Tabakfabrik Linz ausklingen zu lassen.
Die Keynote inkl. Innovation Circus sind kostenlos und es gibt auch dieses Jahr wieder ausreichend Platz, um FreundInnen, KollegInnen und PartnerInnen mitzubringen.
In diesem Sinne: SAVE THE DATE & SPREAD THE WORD :)
Mehr Infos folgen in den nächsten Tagen.
Wir freuen uns auf ein spannendes Festival mit Euch!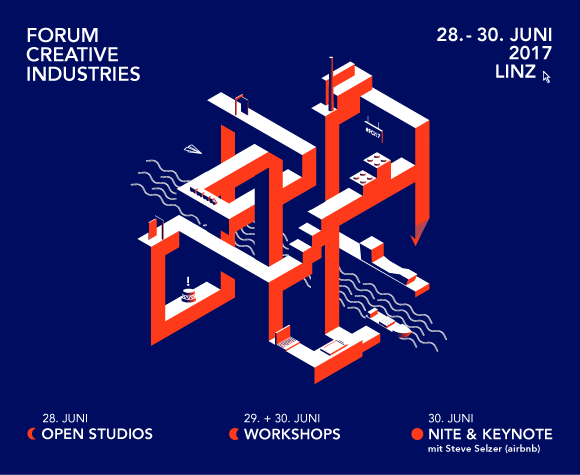 ---
---
---
---
---